Registering for a Full-Distance or even Half-Distance Triathlon is a huge commitment. It takes a lot of time and energy to train and get prepared both mentally and physically for race day. However, imagine how different each trained mile would feel when you know you are racing for something bigger than yourself. Taking the step to sign up for a race while partnering with a charity turns each training session into a way to help people and the community. This year, The Mohawk Foundation is teaming up with the Grand Rapids Triathlon and Michigan Titanium to offer a "Race For Free" opportunity for those who compete in the Half-Distance during the GR Tri or the Half or Full-Distance race at MiTi, where the triathlete will have their registration fee covered in exchange for raising money for charities that fight illnesses such as breast cancer and ALS.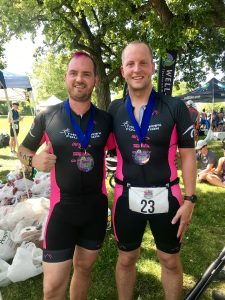 The Mohawk Foundation is a 501(c)(3) that was founded in 2015 by Ryne Hoover on the suggestion of his friend, and EarthPaint.org founder, Christopher McCarthy. Initially, it was just a small group of athletes that had been friends over Facebook. Since then the small group has grown to over 50 members from more than 13 different states.
The initial interest in endurance sports came when Ryne got involved in triathlon in 2014 after going through a divorce. He searched for ways to give back through his newfound love of the sport, so he found a way to raise money while racing in well-known triathlons in the area. The choice to race for breast cancer was an easy one for Ryne because of his direct connection to multiple people affected by the disease, including 4 family members.
The Mohawk Foundation members will be easy to spot this year on the GR Tri and MiTi start lines. Known for their race kits with the signature bright pink detailing, some members, such as Ryne, also race sporting bright pink mohawks in their hair. Choosing to get involved with the GR Tri and MiTi events was due to Ryne racing in the GR Tri in 2017.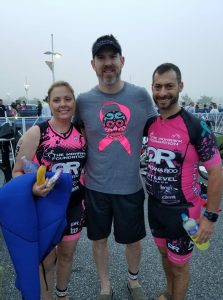 "I was immediately impressed at the way it was run and the way such a small race was able to capture the energy I had previously only seen at larger brand races. In 2019 I did the GRT and MiTi "Double Down" and loved every second of both races, even though my first expected full at MiTi was cut short," Ryne said.
He added, "I truly believe that if racers and fans don't support the independent races they will keep disappearing and our options to race longer 70.3 and 140.6 distances will be limited to 1 brand, something that would be very bad for the sport. So for 2020 I've decided to put my money where my mouth is. We're giving elastic race belts to the first 100 registrants in the MiTi 140.6 distance (we'll give extras if there are any to 70.3 racers) and we're going to offer an Air Relax Leg Recovery System FOR FREE to one person who has entered into either the GR Tri 70.3, MiTi 70.3 or MiTi 140.6 distance race by the end of February. If it really drives entries we might even do it again in April!"
The "Race For Free" opportunity is their version of the standard practice of committing to fundraise for a charity in exchange for a guaranteed slot in a race. Their goals are much lower than most larger charities, both because they are smaller and because they felt that some of the goals were more than the common person could achieve easily. They've set their 70.3 and 140.6 distance fundraising goals at $1,000 and $2,000 respectively, something they feel most people can reach with some effort. If an athlete reaches $1,500 or $2,500, distance dependent of course, they will supply them with a TMF triathlon kit or suit. All participants in the program will also be provided with a running singlet.
The other BIG difference in their program from the way most groups run it, is that they aren't going to send you a huge bill if you miss your goal, in most cases. If they feel that you gave it 100%, you've been active in their group asking for help and advice and truly been an advocate for their mission, they'll likely cut you some slack.
If you have been thinking about tackling one of the longer distances this year, consider doing it with the Mohawk Foundation team. Email RyneHoover@themohawkfoundation.org for a free registration code.
Plus, MiTi and GR Tri athletes can use code TITAN20 now for a discount on the Air Relax Leg Recovery System. For more information check out: http://themohawkfoundation.org/air-relax/