Fear is a powerful force.
When faced with obstacles, fear has the ability to control how those obstacles are overcome. 
In order to conquer fear, it takes large amounts of both courage and strength.
Titans are both courageous and strong. 
Jason Buxbaum is a Titan. 
In 2007, Buxbaum (Hobart, Ind.) was involved in a traumatic cycling accident that demobilized him for months.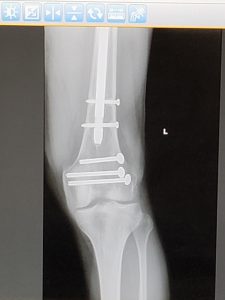 While en route home after a familiar training ride, a car pulled out right in front of Buxbaum and struck him from the side. 
The impact caused the trochanter of his left femur to break off as well as 16 other fractures to the bone. In addition, his left collarbone was also broken.
"I don't recall the accident or even a half hour before. The last thing I can remember was taking off arm warmers in a town that was about 10 miles outside of the town I got hit in. I woke up in the ER and was in a fog." Buxbaum recalls. 
In response to his injuries, Buxbaum underwent two separate surgeries to repair the femur and collarbone, which placed him in the ICU for an entire week. 
Due to the location of his injuries, he could not walk or use crutches, which left him to begin recovery in a wheelchair. 
For months Buxbaum went through physical therapy to regain his mobility.
In the spring the following year, he was finally cleared from rehab to begin riding again.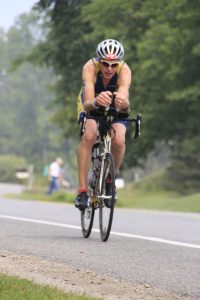 Ever since Buxbaum was a teenager, he has loved cycling. He even competed in USA Cycling races. However, the trauma from the accident left him with a fear of going out to ride again. 
"It was scary," he said. "It was traumatic for cars to get close to me. It was tough. But I am an outdoors person, I don't like the trainer or riding inside so I knew that wasn't going to be an option. I had to overcome my fears and do it."
Despite his fear, Buxbaum's love of riding and determination of getting back to exploring from his bicycle is what allowed him to conquer his fear.
He started training again, eventually joining a riding group that contained a lot of teammates that competed in triathlons. 
In 2009, Buxbaum completed his first triathlon, doing a sprint distance. He fell in love with the sport and began increasing his distances.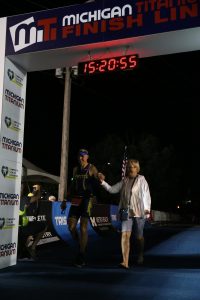 In 2014, he did his first Michigan Titanium event with the half-distance course. Two years later, he took on the full-distance.
"I have two titanium rods in my leg & titanium plate in my collarbone from the car vs bicycle accident in 2007.  I guess it's only fitting that my first 70.3 (2014) and 140.6 (2016) were at Michigan Titanium," he said. "That race was a great race, I fell in love with the race. The course, the swim and the people are top notch. Michigan Titanium and Grand Rapids combined are great races, I can't say enough about them."
While Buxbaum was involved in an incident where trauma-based fear could have prevented him from returning to do what he loved, he leaned on courage and strength to overcome the fear and learn to not only ride again, but learn a new sport that brings him joy, challenges and adventure.