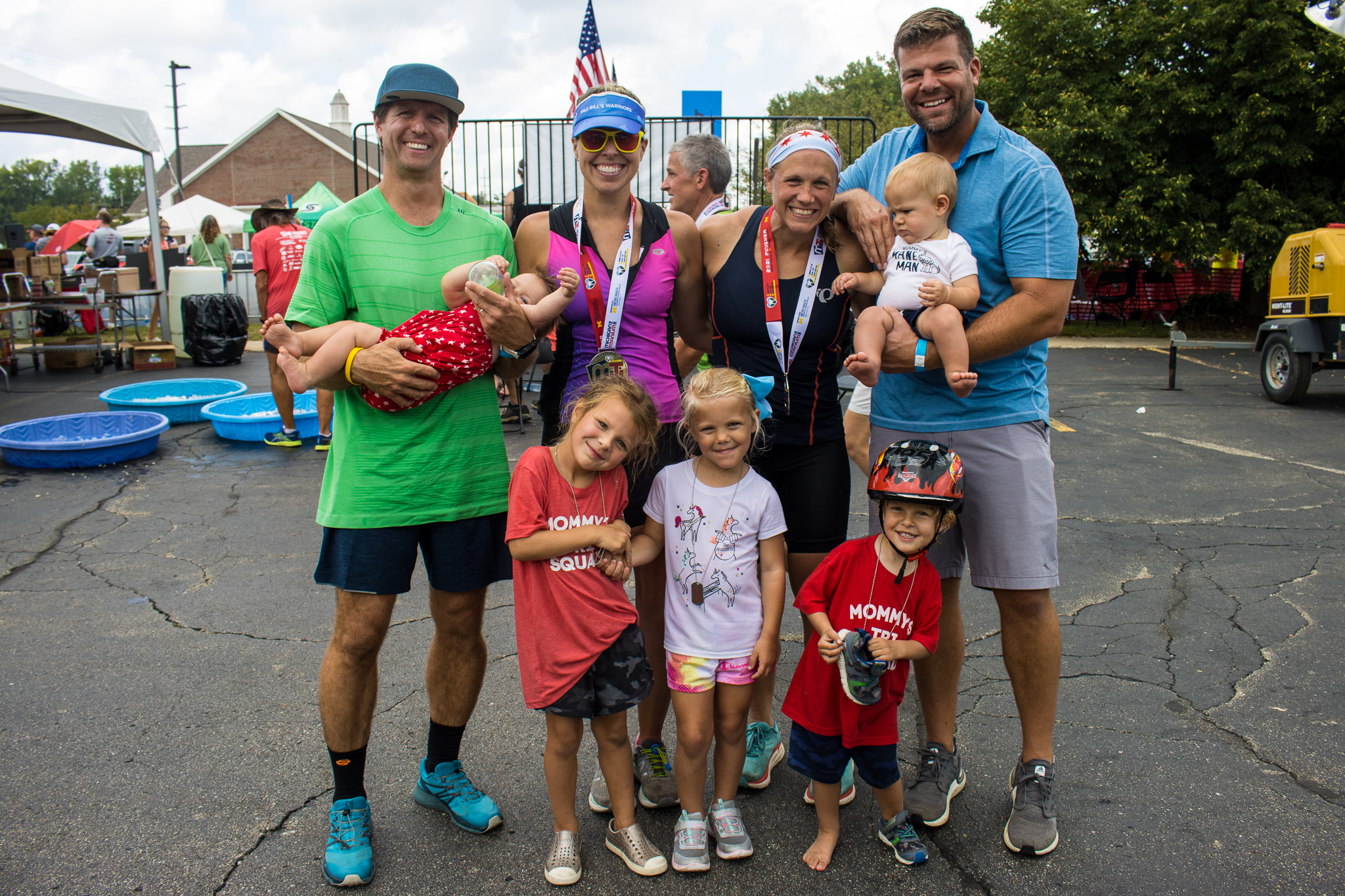 Not all superheros wear capes.
Some wear trisuits while carrying an infant. 
Jennie Halcott (37) of Orchard Lake, Michigan completed her second Michigan Titanium half-distance triathlon last year in 2021. It was also the second time that she finished 70.3 MiTi miles of swimming, biking and running after having a baby less than ten months prior. 
As a mom of three children under the age of five, Jennie proves that "Tri-Moms" are some of the fiercest and strongest competitors out on the course.
As a former Division I collegiate swimmer, getting into triathlon after graduating was a smooth transition for Halcott. . 
"After college you stop being an athlete and you crave being an athlete again, or at least competing, so I dabbled in triathlon," she said.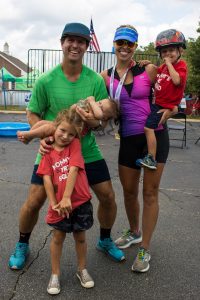 When she moved back to her hometown of Chicago, she met her now husband and began starting a family. As many parents know, once kids enter the mix, a lot of life's focus centers around them, causing triathlon or other passions to take a back seat. 
However, finding time to concentrate on fitness and staying healthy was a huge part of Halcott's life and she knew she wanted to make it a priority again. 
In February 2019, Halcott gave birth to her second child. When she was recovered and ready to start moving again, her husband encouraged her to sign up for a race in order to have a reason to find the time to workout. She signed up for a half-distance triathlon at Michigan Titanium.
"My goal for MiTi was to just do it. It was fun after I had my son to have a fitness goal and it gave me a reason to get up and get on the bike or go for a run, or make sure I carve in time to swim," she said. " It helped me stay on track for being healthy and I am a happier person when I am healthy."
Fast forward two years later to MiTi 2021 and Halcott found herself in a similar situation. On Thanksgiving Day of 2020, she gave birth to her second daughter and third child. 
She signed up for three half-distance triathlons within the year, including Michigan Titanium yet again, in order to have something to train for and give her a reason to add fitness into her life. 
But as easy as signing up for a race is, the hard work comes with finding the time and energy to train and get sessions in – especially for a parent of three small children. 
Even though Halcott had experience with training for a triathlon with an infant before, with each new child comes an older age and the mere fact of more children. Experience aside, all parents can relate to understanding the challenge of juggling being a triathlete with being a parent. 
And specifically for a woman, each new child adds more physical changes and demands to the body causing recovery to take longer and be harder. On top of that, society plays a huge part in sometimes creating a narrative of guilt if a mom spends time working out, when that time could be spent with her children. 
However, as Halcott knows, deciding to make time for herself to stay active, being healthy and working towards a goal doing something she loves, doesn't make her a selfish parent, but rather a better, more healthy one. 
"I am a better mom when I am working out," she said. " I also want to show my kids too that it is important to take care of yourself and be healthy. They might be waiting for me in the morning when I come home from my swim, but at least they saw that I swam. I want them to know that they need to take care of themselves, it is important and is a priority."
When it came to finding the time to train and be healthy with three children running around, that took some creativity. 
"I got up really early so I could workout before they woke up. When my oldest was in preschool, I would take my two little ones and time my run with their nap time so they can sleep in the stroller and I pushed the stroller while I ran. Or we would go to a park and I would bring them along for a handful of the workouts. I also used the bike trainer a lot, because if I am in a session and have to get off to nurse the baby, I would do that, I was still present," she said. 
"I also had an amazing support system with my husband, I couldn't do any of this without him," she added. 
Plus, Halcott wasn't training alone. Last year, she raced alongside another amazing, strong Tri-mom, Michele Fumagalli from Naperville, Illinois, who completed her first half-distance triathlon and also gave birth to a baby the day after Thanksgiving in 2020. 
While physically they did not train together, the two moms supported each other and cheered each other on throughout the season getting ready for race day.
And on race day when both moms crossed the finish line, they had their families and children in hand and celebrated accomplishing MiTi as a family. While Halcott may have done the physical training, completing the race was a journey for the whole family.
Halcott finished the race in five hours, 51 minutes and 34 seconds. Fumagalli crossed the line in 6:11:19.
"In 2019, my goal was to just finish. Last year I wanted to be faster, especially on the bike. Women are crazy, we can have a baby and then we can recover; the women's body is amazing and I wanted to celebrate that with everything we have been through. I wanted my kids to see me do it and finish so I could set a good example for them," Halcott said. "Crossing that line, I celebrated with my mom friend, my husband and then had a beer toast afterwards!"