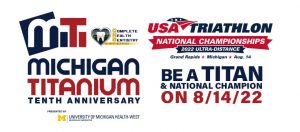 GRAND RAPIDS, Mich. – Michigan Titanium has officially been named as the host event for the USA Triathlon Ultra-Distance National Championship. Based on a two-year contract with USA Triathlon, the national governing body of the sport, Michigan Titanium will host the race in both 2022 and 2023. 
"We could not be more proud to welcome the USA Triathlon Ultra-Distance National Championship to Grand Rapids and be a part of Michigan Titanium," said Jon Conkling, Race Director of Michigan Titanium and Co-Owner of Tris4health, the Local Organizing Committee of Michigan Titanium. "Athletes who compete in the Ultra-Distance event at Michigan Titanium are strong and inspiring individuals, which is why we refer to them as Titans. We are excited that next year we get to witness Titans also becoming National Champions."
Next year's event is also set to be the 10th-anniversary race and will take place on Sunday, August 14, 2022. 
Michigan Titanium is the state of Michigan's only ultra distance triathlon. The ultra-distance event will consist of a 140.6-mile course that features a 2.4-mile swim in Versluis Lake, a 112-mile bike course through the rolling countryside of West Michigan and then ending with a 26.2-mile marathon on a closed run course. 
This will not be the first time that Michigan Titanium has hosted this national event. In 2019, the Ultra-Distance National Championship was aligned with Michigan Titanium. However, due to inclement weather and strong storms, the race had to be cut short for the safety of the athletes. Participants competed on a half-distance, 70.3-mile course (1.2-mile swim, 56-mile bike and 13.1-mile run). 
In 2019, Michigan's own Ryan Rau (Brighton, Mich.) earned the overall men's National Championship crown at Michigan Titanium. Megan Benehoff (Freeport, Ill.) earned the overall women's crown. 
In addition to the ultra distance, Michigan Titanium also features half-distance and olympic-distance triathlons as well as Duathlon (bike-run), Aquabike (swim-bike) and Team Relay events. 
Registration is now open for Michigan Titanium. For more information and to register, visit: https://mititanium.com